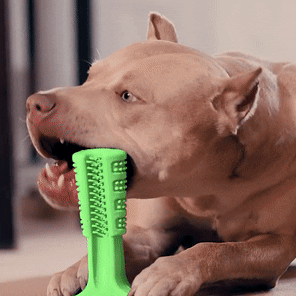 Features & Benefits:
PAW PADS FOR STABILIZATION: We understand that your dog needed all the comfort they could get with the Brushing Stick, so we made it with a sanding pad to ensure that it's stable for your dog.

A TOOTHPASTE RESERVOIR: The Brushing Stick comes with a toothpaste reservoir that will self-dispense to your dog's mouth while they chew or play with it. Ensure you use a pet-safe toothpaste.

2 SIDED BRISTLE LINE GROOVES: The Brushing Stick is made with bristle double-sided grooves that are specifically designed to grab food particles or tar from between and around your dog's or pup's teeth.

Designed with your dogs' chewing behavior, anatomy, and preferences in mind.

Protection against serious health issues.

A positive, daily tooth brushing experience

Independence to take care of their own oral health. 
DAILY TOOTHBRUSHING IS A MUST!

4 out of 5 dogs suffer from oral disease by the age of 3.

You need to brush your dog's teeth every day to keep his oral health in check and to prevent any oral diseases.

The fast is: 4 out of 5 dogs suffer from oral disease by the age of 3! Gingivitis is one of these diseases and it leads to painful inflammation, bad breath and can easily lead to other life-threatening diseases!

The Brushing Stick is the best DIY solution to ensure your dog's teeth are properly cleaned.
It's fun for your dog, and it's designed to be effective and reach those unreachable places like the molars. You will have NO stress as a pet owner and your dog will have no problems playing with the Brushing Stick and while at it, they'll be fixing up their oral health and breath.
Traditional toothbrushes bruise and hurt the gums of dogs and because of this, most dogs never prefer to toothbrush and it's a lot of stress for you, the pet owner and without knowing it, your dog too could be getting sick due to oral bacterias.